Giovanni Lombardi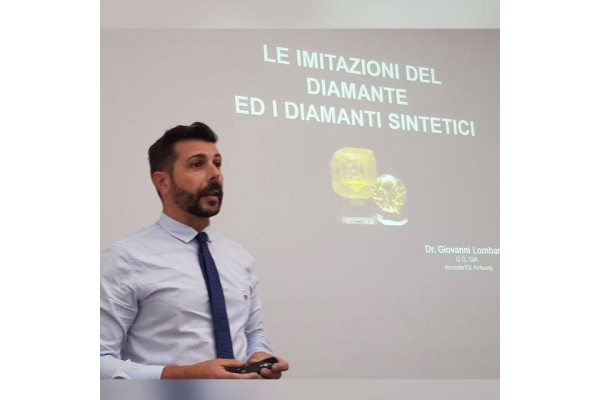 PROFILO del DOCENTE
DOTT. Giovanni Lombardi
Perito Camera di Commercio di Lucca e C.T.U. del Tribunale Civile di Lucca
Membro associazione Italiana Gemmologi ( N° 521)
Collegio Italiano Periti (N° 795)
18 Febbraio 2000 Università degli Studi di Pisa - Italia
Diploma di Laurea in Scienze Geologiche
21 Aprile 2000 Gemological Institute of America Vicenza, Italia
Diploma Graduate Gemologist, Diploma Graduate Colored Stones
26 Novembre 1999 CSO Londra, Gran Bretagna
Seminario sui diamanti e sull'attività della De Beers
21 Novembre 1999: I.G.I. Anversa, Belgio, presso Gemmarum Lapidator di Cavalese (Tn) Italia. Corso "Identificazione della moissanite"
11 Novembre 1999 Gemological Institute of America - Vicenza, Italia Diploma "Graduate Diamonds GIA"
05 Ottobre 2008: I.G.I. Anversa, Belgio, presso Gemmarum Lapidator di Cavalese (Tn) Italia. Diploma "Rough Diamond Grader"
Dal 2009 svolge Attività imprenditoriale indipendente nella nuova sede di Guamo, Lucca, con iscrizione alla camera di Commercio di Lucca (REA 202442) Gio Gems di Giovanni Lombardi. Attività di Impresa: commercio all'ingrosso di pietre preziose e semipreziose e offre ai clienti servizi personalizzati di consulenza, certificazione, perizia, valutazioni ed assistenza.
Nel 2006 fino al 2008 era impiegato presso un' importante ditta di preziosi a Vicenza nella qualità di esperto analista gemmologo, con mansioni di controllo qualità, analisi gemmologiche, perizia, stime, e vendita pietre preziose sul territorio italiano e fino al 2011 vi ha lavorato in qualità di Grossista pietre preziose.
Dal 2000 al 2009 ha esercitato attività imprenditoriale individuale con iscrizione alla Camera di Commercio di Livorno, con denominazione GeoGems di Giovanni Lombardi, Laboratorio di analisi gemmologiche, consulenze, broker.
Dal 2000 si occupa di prospezione e ricerca di oro con conseguente acquisizione di concessione mineraria nel Territorio dello Yukon Canada.
Dal 2001 al 2006 ha intrapreso attività di Prospezione geologica/mineralogica di giacimento fosfati nei pressi di Mount Davis Gilbert, Yukon Territory Canada.
Nell'azienda di famiglia (negozio di nautica, motori marini, accessori) ha collaborato in qualità di vicepresidente della società dal 1995 al 2008.
Conoscenza di strumentazioni a raggi x per identificazioni mineralogiche diffrattometriche (Camera Gandolfi, polveri ecc.).
Collezionista e ricercatore di Minerali, Rocce e Fossili di varie parti del mondo. Cercatore d'oro.

Iscritto nel registro regionale di cercatori di minerali della Regione Piemonte Codice Li0001

Socio della Federazione Italiana Cercatori d'Oro. Ha partecipato ai Campionati Mondiali di ricerca dell'oro del 1994, a Rauris in Austria, del 1996, a Dawson City nello Yukon in Canada e del 1997 in Italia a Vigevano (Pv).

Dal 2002, Socio del Gruppo Geomineralogico Paleontologico Pisano (GGPP), che riunisce cultori e appassionati di Science Naturali (Minerali, Fossili, Rocce, Conchiglie, Funghi, ecc.). Organizza Mostre Didattiche, Mostre Borse-Scambio tra collezionisti, conferenze e incontri, nell'ambito del GGPP e presso Istituzioni che ne richiedono la collaborazione (scuole, circoscrizioni comunali, altre associazioni mineralogiche, ecc.). Ha ricoperto nel corso degli anni le carica di consigliere, tesoriere, presidente.

Socio dell'Associazione Archeologica del Medio Valdarno, Empoli – Montespertoli.